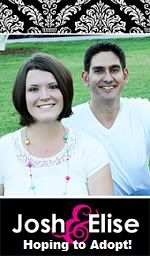 I think y'all know this already, but adoption is super close to our hearts. And, despite their tumultuous journey so far, our friends
Josh and Elise
are hoping to adopt.
Which brings us to two huge favors we have to ask of y'all-
If you know someone (or hear of someone) who is pregnant and looking for adoptive parents for their baby, would you get in touch with Josh and Elise?
And would you tell people about them (or perhaps put their button on your sidebar)? The more people who know their story, the more circles they touch, and the higher the chances that they find a birth mama looking for adoptive parents.
Their contact info is on
their blog
(their caseworker's info is on there too).
If you have a chance, go say hi and let them know you're spreading the word and waiting with them for the happy day when they meet their peanut!